Compared to other types of literature, reading poetry requires my full attention and presence due to the nature of the poem. It is compact. A lot is said with very little words and poets only use words that automatically evoke your imagination and create images in your mind, sometimes a world of images. I would like to stay present when reading poetry, but it is not always easy.
Defocussed
Attention and presence are required. But also keeping a certain detachment. Perhaps being 'defocussed' is the correct term: refrain from understanding the literal meaning of what has been written, but try to read between the lines. Feel the blank breathing space. To experience the entire poem, you must not only read the text but also absorb the space between the lines.
I find that the essentials for reading poetry – attention, presence, being defocussed – are what makes poetry especially suitable for being in the present moment and becoming still.
Contemplative Poetry
While all poetry invites you to become still, there is a category of poems in which being in the moment is actually the subject. You could call it contemplative poetry. The brand-new bundle Poetry of Presence. An Anthology of Mindfulness Poems includes over 150 of these types of poems. Each poem invites you to be in the here and now, instead of letting your mind wander. Written by 128 classic and contemporary writers. For example Hafiz, Rainer Maria Rilke, Pablo Neruda, Alice Walker, Raymond Carver, Wislawa Szymborska, Rumi, Kahlil Gibran, Seamus Heaney and Margaret Atwood.
Writing Poetry Requires the Same Presence
The editors of the bundle noticed that the same attention and presence is required to write poetry:
'It's the nature of their craft to bear witness to the here and now. To compose a poem, after all, they must stop whatever else they're doing and give it their utter attention. As Galway Kinnell once said, "Poetry is somebody standing up, so to speak, and saying, with as little concealment as possible, what it is for him or her to be on earth at this moment."
Nature as Setting
Many poems in the bundle are about nature. The editors Phyllis Cole-Dai en Ruby Wilson long to be outdoors as much as they can and, apart from that, nature also helps you like no other to be in the moment. So it is not a surprise that many poets were and are inspired by nature.
'Natural spaces sharpen our senses, help us tune in, make us more aware of being alive. As a result, we almost always relax, and decompress. We open, like sky. We slow down, like ground. We breathe freer. We talk less. All of this happens, well, naturally, without our having to try. As we transition from our doubts and worries, our gotta-dos and wanna-dos, into greater awareness, we feel more respect and gratitude for the natural world, more humility about our place in it, and more reverence for all life.'
How do you read such a bundle? Not too many poems at once and not too fast, even if you could. To enjoy all this bundle has to offer, including becoming still, it is essential to take your time. Cole-Dai en Wilson give how-to tips in the introduction.
---
How to read mindfully (one approach)
Pick a poem (my suggestion: simply open the book intuitively to a random page).
Take a few deep breaths. Summon your full awareness.
Now read the poem, either silently or aloud. Notice when your mind wanders, and gently call it back.
When you read the end, sit with the poem for a moment. Don't analyze or judge it.
Take your time. Let it resonate, like the sounding of a gong.
Don't ask yourself questions like 'Do I like this poem?' 'Is it better or worse than that one?' Instead: 'Just open yourself wide, like cloudless sky. Be the white space around the poem. The more welcoming you are of mindfulness poetry, and the more profoundly you engage with it, the more you'll be able to meet the world with a spirit of invitation, just as the poetry meets you.'
---
Poetry of Presence is a bundle to treasure your entire life and read over and over again. Also suitable to read out during yoga and meditation sessions, celebrations and memorials. And an excellent gift!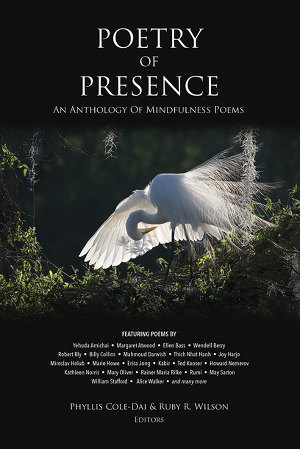 Zazen on Ching-t'ing Mountain
The birds have vanished down the sky.
Now the last cloud drains away.
We sit together, the mountain and me,
until only the mountain remains.
-Li Po
Poetry of Presence. An Anthology of Mindfulness Poems
Phyllis Cole-Dai & Ruby R. Wilson, editors.
Grayson Books, September 2017
---
Translation by: Cindy Ritmeester, naturalsoul.nl & Cathelijne